2009 Tennessee Volunteers Football
Ranking
Coaches
NR
AP
NR
2009 record
3-3 (1-2 SEC)
Head coach
Lane Kiffin
Offensive coordinator
Jim Chaney
Defensive coordinator
Monte Kiffin
Seasons
The disappointment of the 2008 season, and the departure of Phillip Fulmer and his coaching staff leave many unanswered questions heading into the 2009 season. The hiring of Lane Kiffin and a host of proven assistant coaches, combined with an eventful recruiting season has the buzz amongst Volunteer faithful at an all-time high.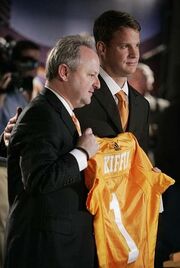 Joining Kiffin on the Volunteers staff for the 2009 season is a group of proven assistant coaches. On December 31, 2008, Tennessee announced that Lane Kiffin's father Monte Kiffin would be joining the staff as the new defensive coordinator. Monte Kiffin has spent 20+ seasons as a defensive coordinator in the NFL and is the creator of the popular "Tampa 2" defense. Three days later, the Vols announced former Ole Miss head coach Ed Orgeron as the new defensive line coach and recruiting coordinator. Orgeron and Kiffin worked together at USC from 2002-2004 under Pete Carroll.
On January 17, Tennessee finalized the new staff by announcing the hiring of several more assistant coaches. Jim Chaney (Offensive Coordinator), David Reaves (Quarterbacks Coach), James Cregg (Tight Ends and Tackles Coach), Frank Wilson (Wide Receivers Coach), and Eddie Gran (Running Backs and Special Teams Coach) were all announced to round out the offensive side of the ball. On defense, Willie Mack Garza (Defensive Backs Coach) and Lance Thompson (Linebackers Coach) were also announced.
Schedule
Edit
Date
Time
Opponent
UT Rank#
Site
TV
Result
September 5, 2009
12:21 PM
Western Kentucky
NR
Neyland Stadium · Knoxville, TN
SEC Network
W 63-7
September 12, 2009
4:00 PM
UCLA
NR
Neyland Stadium · Knoxville, TN
ESPN
L 15-19
September 19, 2009
3:30 PM
@ Florida
NR
Ben Hill Griffin Stadium · Gainesville, FL
CBS
L 13-23
September 26, 2009
7:00 PM
Ohio
NR
Neyland Stadium · Knoxville, TN
Videoseat PPV
W 34-23
October 3, 2009
7:45 PM
Auburn
NR
Neyland Stadium · Knoxville, TN
ESPN
L 22-26
October 10, 2009
12:21 PM
Georgia
NR
Neyland Stadium · Knoxville, TN
SEC Network
W 45-19
October 24, 2009
3:30 PM
@ Alabama
-
Bryant-Denny Stadium · Tuscaloosa, AL
CBS
-
October 31, 2009
TBA
South Carolina
-
Neyland Stadium · Knoxville, TN
TBA
-
November 7, 2009
TBA
Memphis
-
Neyland Stadium · Knoxville, TN
TBA
-
November 14, 2009
TBA
@ Ole Miss
-
Vaught-Hemmingway Stadium · Oxford, MS
TBA
-
November 21, 2009
TBA
Vanderbilt
-
Neyland Stadium · Knoxville, TN
TBA
-
November 28, 2009
TBA
@ Kentucky
-
Commonwealth Stadium · Lexington, KY
TBA
-

     

 Home  

     

 Away  

     

 Neutral Site
Quarterback


Wide Receiver


Tailback


Fullback

 

Tight End


Center


Offensive Guard


Offensive Tackle

 

Defensive End


Defensive Tackle


Linebacker

 

Defensive Back


Kicker/Punter


Snapper/Holder
Coaching Staff
Edit
Recruiting
Edit
Spring Practice
Edit
Tennessee opened spring practice on March 10, and will conclude with the Orange and White Game on Saturday April 18. The main dilemma to most Vol fans heading into the spring is the quarterback situation. While three quarterbacks saw action in 2008, none of them were able to distinguish themselves in Dave Clawson's system. One of the frontrunners, Nick Stephens, has been sidelined with a wrist injury, leaving the competition primarily between Senior Jonathan Crompton and Sophomore B.J. Coleman.